About The Riverview Hotel & St Marys
The Hotel
---
Built in 1916, the hotel has been owned and operated by the Brandon Family from the 1920 - 2019. Sallie Brandon purchased the Hotel with the help of her two sisters, Miss Semora and Miss Ethel, establishing a reputation as hospitable hostesses, transforming guests into friends. Southern style cooking drew many St. Marys families away from their own dining room tables, and visitors found a home away from home. The hotel is operated in the same warmth and tradition today as in yesteryear.
The Innkeepers
---
Our Goal is to offer visitors an atmosphere of friendly hospitality and relaxation while experiencing historic St. Marys and beautiful Cumberland Island and surrounding area. Wonder what to bring? Pack comfortably and casually. Bring bathing suits, sandals, sunglasses, hat, sunscreen, insect repellent, camera, rain poncho, snack and drinks. We welcome you to the Riverview Hotel, "Where Good Friends Meet, New and Old." Let us know how we can assist you in planning your vacation. We are always happy to help. Bert & CB (Owners) are making the Best Kept Secret in Georgia a memorable place to Discover History, Discover Yourself, Enjoy Food, Fun, & Friends. Make New Memories in the little town by the sea. Your secret is safe with us !
St. Marys, GA
---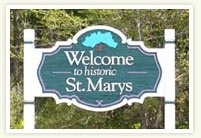 Long Before our founding fathers decided to establish St. Marys, this was the site of a large Timucuan Indian Village. In 1562 French Huguenot Jean Ribault was said to have sailed into the St. Marys River and named it "River May" for the date of the entrance. Later the name was changed to "Mary". The Santa Maria Mission was located in this area. Spanish occupation began in 1566 and ended in 1686 when the Spanish withdrew in face of the British intrusion from Carolina. In 1777, the Royal Government divided the area into two parishes. Camden County was one of the original eight counties, named for Charles Pratt, Earl of Camden. In 1787 the town of St. Marys was formed when Jacob Weed sold 1,620 acres to twenty founding fathers for $48 a four-acre tract. This was the beginning of the town of St. Marys, said to be the second oldest town in the United States, St. Augustine being the oldest. Learn more about the fascinating history of St. Marys and how history was recently re-written with the last battle at Point Peter at the end of the War of 1812. Historical Trolley Tours and Water Taxi run daily directly across from the Historic Riverview Hotel, circa 1916.