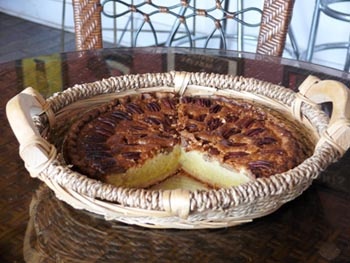 Featured Recipe
Buttermilk Pecan Pie with Raisin Rum Sauce
(makes one pie)
5 eggs (slightly beaten)
1 cup buttermilk
1 stick butter (melted)
1 cup sugar
1/2 cup all purpose flour
1 tablespoon vanilla
1/2 cup whole pecans
1 deep dish pie crust
Mix first 6 ingredients together. Pour into pie crust (placed on a baking sheet). Gently place each pecan on top of filling in a circular pattern to cover top of pie. Gently place pie in preheated 325 degree oven. Bake for 45 minutes. Top of pie should be golden brown and toothpick should come out clean from center. Serve warm with Raisin Rum Sauce.
Raisin Rum Sauce: 1/2 stick butter melted, 1/2 cup dark rum, 1/4 cup brown sugar, 1/4 cup golden raisins.
Melt butter in a sauce pan. Add rum and reduce. Add brown sugar stirring until dissolved. Remove from heat. Add raisins. Pour over each individual pie serving. Garnish with a dollop of whipped cream & cinnamon dust.